Jim Henson is the creator of the lovable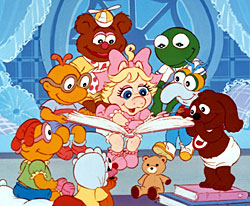 Muppet characters from the children's television series. But if you are like me, you have a tough time remembering who all the characters are along with their personalities.  So, what I have done for you is list the Muppet Babies characters by name and provided a brief tid bit about their role in the Muppet Babies Series.
Miss Piggy - She is definitely one of the central characters in The Muppet Show. Miss Piggy is a prima-donna pig who is absolutely convinced that she's destined for stardom, and nothing is going to stand in her way. Her public face is the soul of feminine charm, but she can instantly fly into a violent rage whenever she thinks she's insulted or thwarted.
Kermit the Frog – We all came to know and love the throaty voice and character of Kermit!  He is by far the most famous of all the Muppet characters.  He grew up with thousands of siblings and he has a nephew named Robin.  His biggest claim to fame catchphrase was: "Hi-ho, Kermit the Frog here!".
Beaker - is the hapless assistant to Dr. Bunsen Honeydew.  He made his first appearance in Muppet Labs sketches during the second season of The Muppet Show.
Gonzo – Formally known as "Gonzo the Great", he is the resident daredevil on the show. He is an odd looking, unclassifiable alien creature with blue fur, bug eyes, and a distinguishing long crooked nose. He takes pride in his uniqueness and enjoys everything that he does — no matter how painful or reckless it may be.
Animal – My personal favorite, animal is nothing short of a wild man.  He is the drummer, performing with Dr. Teeth and the Electric Mayhem. Animal is a crazed percussionist with three styles of music — loud, louder, and uncontrollably deafening. He speaks in shout, with elementary phrase like "BEAT DRUMS, BEAT DRUMS, BEAT DRUMS…".  He is rarely capable of a normal conversation as he is typically too wound up.
The Swedish Chef – This is the renown and incomprehensible preparer of foodstuffs.  The Swedish Chef is a humanoid character, with human hands rather than gloves.  The Chef speaks gibberish while preparing his food.
Janice – She is the lead guitar player in the Electric Mayhem. She is occasionally seen in the orchestra during the fifth season of the show. She has a very close relationship with the Electric Mayhem's bass player, Floyd Pepper.
And many, many more….
Who is your favorite character?  I wanna know…drop me a note below outlining why!  Also, if you want me to outline more characters, leave there names in the comments and I will add them to this page, along with their personal traits.